Navigating through change – What are your options?
Whilst change is inevitable the way we approach and cope with change is something we have some control over. There are several ways we can navigate change such as by 'going with the flow', fighting the change, or by changing the way we think about change which can include:
Approach dealing with change as a process
Reframe how you think about change
Breathe, and be flexible
Six tips for dealing with change:
Ask yourself how much you can control
Celebrate the positives
Take action
Accept and reframe
Manage your stress
Seek support
The change curve
The change curve is a popular and powerful model used to understand the stages most people go through as they adjust to change. It can help predict and understand how people may react to change, help navigate their response to change, and point to stages where they may need guidance and support.
People will move through this curve at different rates and possibly stay at different stages for longer than others. By understanding the change curve, you can work and plan on how to minimise some of the negative impacts of the change, and yourself and others to adapt more quickly to it. The aim is to make the curve shallower and narrower. Stages need to be acknowledged and not unduly "rushed through" but if you can support yourself to move into the learning stages it will make the change process easier.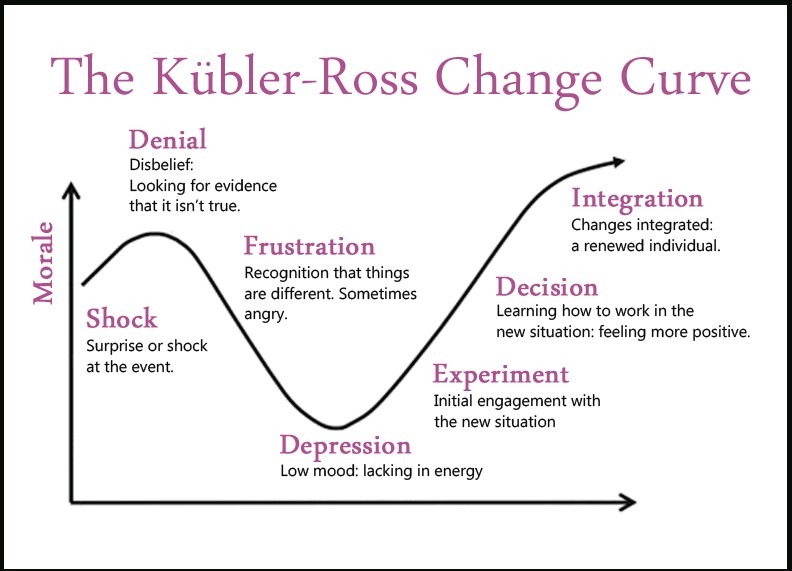 Moving through the curve
Making sense of what is going on, or will happen "on the other side"
Sometimes, people can get "stuck" in a phase of the curve
–Resilience helps us to move from one stage to the next
Perceived lack of control also drives our stress responses and multiplies the negative effects on the individual
People run the risk of making emotional decisions to protect themselves
–"When emotion is high, intelligence is low"
Steps to help through the change
Manage yourself: be aware of what you are going through now
Be aware of others response to change: Accept others where they are on the curve, but don't try to argue them out of their position
Avoid hearsay ("fake news"): Get your facts about change from trusted sources
Review your future: See this period as an episode in the journey for you achieving your goals – we can learn from our experiences
Be pragmatically optimistic: It helps your brain to find solutions
Be aware of anxiety: Fear of unknown can strike when your emotional energy resources are depleted
Focus on activity: Be aware of your locus of control – what can you do?
Build your resilience knowledge: Understand your emotions, thinking, physiology and personality
Communicate with others

Supportive people can help you manage stress in times of change:
Workplace leader
Friends and family
External supports
Writing things down/journaling
–Focuses your attention
–Clarifies thoughts – helps decision making
Resilience in times of change
Resilience is about bouncing back from change – but also about performing during times of stress and pressure:
Finding opportunities within the chaos
Constantly learning, evolving and updating strategies (positive coping)
Mindset; change is a chance to grow, learn, do things better
Emotional intelligence
Letting go and moving on
Building support networks
Embrace the change
Trust the process
Be open to possibilities
–What does this change give me that wasn't possible before?
Affirm:
–"I am strong and will manage"
–"I can deal with change and can learn from this"