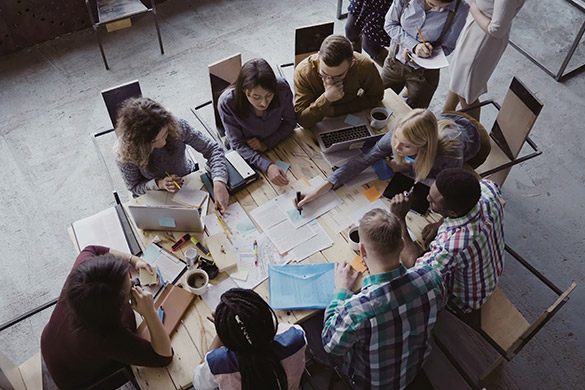 Connecting teams using the right approaches
We're here to promote team connection, support team mental health, and provide tools to empower managers. When staff behaviour, performance or management issues crop up, we step in to address the situation by providing preventive and proactive solutions that will encourage your teams to overcome challenging situations.
Teamwork just got a lot easier
Complete services to connect your people
Critical Incident Response
Critical Incidents in the workplace take many forms. They may include a workplace accident, sudden death or injury, or unforeseen staff redundancies. In response, employees can suffer from stress, fatigue, withdrawal, absenteeism or job uncertainty. As recognised experts in Critical Incident Response, we provide total support by adopting group based and individual interventions such as psychological first aid, defusing, debriefing, and stress stocktakes.
Manager Support
It's natural for managers to want to access advice and guidance on how to bring the best out in a team, or to workshop different response strategies to challenging situations. Our specialised clinicians are available to do just that, and can provide support and coaching just for managers, team leaders and supervisors. This includes everything from effective performance management, people management and team conflict through to difficult staff, organisational change and preventative strategies. Manager support can be used as a once-off session or with follow- up support.
Team building
When teams work collaboratively in a supportive, encouraging and open environment, anything is possible. Our clinicians assist with enhancing team motivation, improving team communication and strengthening team cohesion. We help identify and break down barriers so that truly effective working relationships can be cultivated.
Mediation
If conflict goes unchecked it can damage morale, reduce productivity and may have long term legal ramifications. By providing employees with an official channel to unpack underlying issues that work to resolve conflict, our workplace mediation service encourages neutral, respectful dialogue and promotes connection. Our trained and accredited mediators adopt confidential and balanced processes to ensure the optimal setting for productive conversations.
Group Supervision
Group supervision is highly effective for growing and developing teams. We employ a broad range of clinical supervision techniques that provide the opportunity for groups to reflect as a team on their shared work and to enhance group consistency and quality. Group supervision is also a powerful tool for teams to explore different ways to approach situations and to learn from each other's styles.
Take the first step to improving your workplace wellness.
And don't worry, we won't spam you!