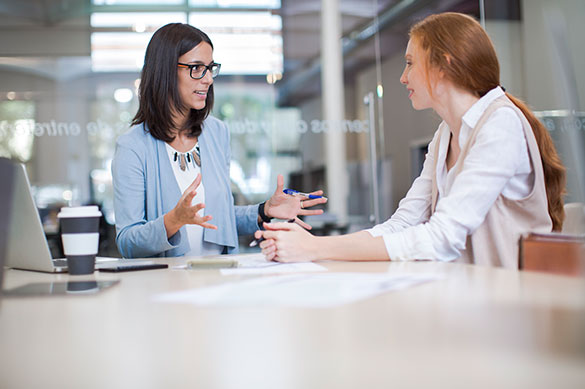 Upcoming sessions
Our 2021 Training Programs are now open for registration. These programs are suitable for individuals or small groups looking to expand their knowledge and skills, and further their professional development.
Download the 2022 Training Brochure
Foster a culture of learning
Caraniche at Work supports the learning and development needs of over 2,000 employees every year across Australia.
Our training is delivered by senior clinicians and facilitators, who are highly skilled in engaging meaningfully with participants, and are able to draw on real-life examples and applications.
Guided by best practice adult learning principles and developed in consultation with our Research and Professional Practice Team, our training programs are constantly updated to meet the changing needs of the modern workplace.
Sign up for our training updates to be advised as soon as our session dates and further details are released.
Tailored for you
Tailored training makes up the majority of the training services we design and deliver. Our clients include corporate organisations, government and NFPs.
Facilitated at your workplace at a date and time that suits you, we customise training not only to your organisation's requirements, but also to the background of the participants taking part.
We can also manage your in-house training calendar, including needs analysis, monitoring staff attendance, promotion, venue bookings and evaluation.
Our training programs are most often run as workshops, using transformational learning approaches shown to be highly effective with adults, rather than didactic teaching.
Training Programs
Spanning the entire spectrum of workplace health and wellness, we deliver one-hour seminars, half-day, full-day and two-day training through to internationally accredited certificates. All of our training can be tailored to your organisational needs. Some of our most popular training programs are outlined below.
Submit a training topic request
For individuals and teams
Resilience and Stress Strategies for the Workplace
Assertiveness and Confident Communication Skills
Psychological First Aid
Developing Dynamic Teams
Domestic Violence/Family Violence and Mental Health: Understanding the important role of workplaces
For leaders and managers
Optimising Performance: Simple Strategies for Managers
Managing Interpersonal Dynamics: Challenging Behaviours in the Workplace
Supporting and Leading Teams Through Times of Stress and Crisis
Managing Mental Health in the Workplace
Domestic Violence/Family Violence and Mental Health: Understanding the important role of workplaces
Specialist programs
Vicarious Trauma, Compassion Fatigue and Resilience
Critical Incident Response Management
Introduction to Clinical Supervision
Foundational Skills in Motivational Interviewing
Managing Aggressive and Challenging Client Behaviours
Understanding Trauma and Addiction
Working with Forensic Alcohol and Other Drug (AOD) Clients
What our participants say
"The trainer was clearly experienced and passionate in the area, which made the training incredibly engaging and relatable."
"I found the training very useful and relevant to my job."
"The trainer was fantastic!"
"Best training we have done to date."
"Fantastic workshop and impressive facilitator."
"The presenter was very engaging, knowledgeable, warm and displayed a great broad knowledge in this specialist area."
Take the first step to improving your workplace wellness.
And don't worry, we won't spam you!