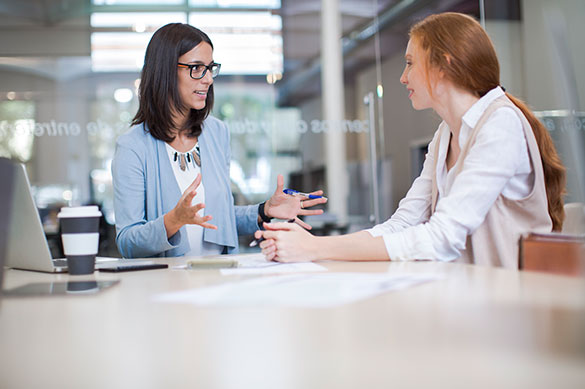 Enhance your organisation
As a leading EAP provider, our focus on supporting individuals and connecting teams sits within a broader framework that enhances and protects organisations, with the bigger picture always front of mind. Designed for Australian companies, we ensure our EAP services align with the broader social, legal and cultural contexts in which your organisation operates. We also ensure the guidance and support we provide to your employees aligns with your organisational policies and procedures and with legislative and OH&S requirements.
Transform your organisational culture
Complete EAP services that enhance your company from the inside out
Leadership development & Coaching
Looking for a service to identify and develop your leaders? The strength of our executive leadership and coaching service lies in our ability to design programs to meet the needs of each leader and their leadership path. Our coaches work with you to identify potential leaders and help develop and enhance employees already in leadership roles. For our executive coaching and leadership development service, our coaches adopt strength-based approaches to help define and guide what leadership success looks like. Our services are proven to assist with the development of insights, managing barriers and harnessing strengths.
Organisational pulse checks
Organisational pulse checks are a great way to get an accurate gauge on employee satisfaction and engagement, communications, management, operations and workplace culture. They are key to addressing critical issues and challenges faced by your organisation. Whether you need to measure before, during or after a specific event, prefer continuous feedback or require regular stress stocktakes to assess the impacts of cumulative stress, we can help your organisation keep its finger on the pulse.
Peer support
We have extensive experience designing peer support programs that build internal capacity to respond to workplace mental health and wellbeing issues. The role of a Peer Supporter includes assisting those who experience mental health issues, family violence, bullying and harassment, and responding to critical incidents. In addition to program design and implementation, our services include training, ongoing supervision, professional development and consultation.
Bullying & harassment
Workplace harassment and bullying is not only harmful to the individuals involved, it also impacts organisational culture, lowers productivity, increases absenteeism, presenteeism, staff dissatisfaction and turnover. It can also significantly impact organisational reputation, compensation and legal claims. We have many services available to address harassment and bullying. We offer a telephone hotline for logging inappropriate behaviour, helping you stay on top of issues and prepare for impact assessments. Along with training workshops, our clinicians offer counselling to victims, alleged accusers and witnesses of inappropriate behaviour and provide investigation services for matters such as bullying, EEO and workplace issues.
OHS Policy development
Having an OHS policy in place ensures you can meet safety and legislative requirements and shows your organisation's commitment to a safe and supportive workplace. Caraniche at Work can assist your policy development processes by conducting a needs analysis and consulting on health and safety legislation aligned to your health and wellbeing initiatives. We assist in the development of tailored policies that ensure your business meets OH&S requirements while creating a safe work environment.
Take the first step to improving your workplace wellness.
And don't worry, we won't spam you!